Celestite stone is also known as Celestine stone. It is a delicate blue colored mineral containing strontium.
Its name comes from the word "celestial" meaning celestial, as its color is reminiscent of the pale blue of the sky.
It therefore has a strong historical relationship with heaven, angels, and divinity.
Celestite stone; It is a sweet, gentle and uplifting stone with a soothing energy.
It relieves stress and tension and instead of constantly fighting against the currents of the universe, it is very deep.
And it helps you learn to "go with the flow" on a real level.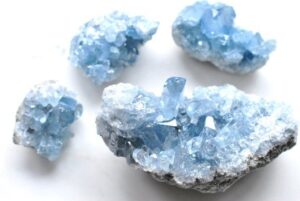 It helps to purify and stimulate the Third Eye Chakra and Crown Chakra.
It allows attunement to spirit guides and attaining a higher state of consciousness.
Often used in angelic rituals today, it is said to be the stone that summons your guardian angel.
It makes you feel like you are being watched by a loving caretaker.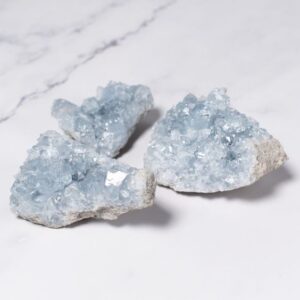 If you are trying to keep your vibration positive and calm, wearing a celestite stone necklace and bracelet,
It can be a great support to carry in your pocket or to hold in your hand while meditating.